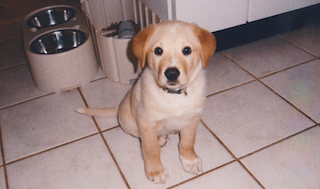 Pet urine is a fact of life when you get a cat or dog. And boy is it a chore to clean up.
Not only do you need to clean it up but you have to be careful of what cleaners you use. If you use a cleaner not meant for pets, you could make them sick.
That is where a steam mop comes into play. A steam mop works well for cleaning hard surfaces like hardwood, tile, or some laminate floors.
But what steam works best for pet urine and other pet messes? That is what I want to answer.
Why A Steam Mop?
I bet many of you already use a Swiffer – stop doing that. Those things use chemicals that some pets are affected by. This is a big deal when you realize when the food bowl overflows onto the floor and your pets will eat off that floor you just cleaned with chemicals.
Why not use a regular mop? Only use a regular old mop if you like giving yourself more work. A steam mop, especially for pet stains, will make your life easier. Just add water and the cleaning pad and start cleaning.
Can I use a Steam Cleaner? A steam mop and a steam cleaner are very similar. But a steam mop will clean more area and handles the floor better.
A huge reason for you to get a steam mop is if you're sensitive to smells. Steam has no real smell besides the smell of clean – you know after a heavy rainstorm there is that smell of clean.
A steam mop can also help with potty training a dog. They like to go in the same spot they smell the pee. A steam cleaner will heat up and clean that area to remove the smell. This helps them from smelling the old pee and going again.
So, What Is The Best?
Let's get right to it.
I find the Shark Genius Hard Floor Cleaning System Pocket* to be one of my top picks.
Besides the fact that it uses steam to clean instead of chemicals, it still kills 99% of germs. It can get up to 212F or 100c which is hot enough to kill fleas, ticks, and their eggs (a big deal right here for us pet owners).
I also like how they went with the triangle head so you can get in tight corners too.
You don't see this often, but they give you a Snap-on Carpet Glider so you can refresh your carpet or help with sticky or deep stains.
And you have the steam controls so you can set the steam power. You'll also get the microfiber cleaning pads which is nice as they'll be less likely to scratch your floors.
The Issue I have
There is only one issue I have with this steam mop; I wish the water tank was bigger. I get why they do this, to make it steam up quicker, but I like to clean a lot.
Maybe in the future, they'll have a model with a bigger tank. Until then this thing is still amazing!
Important
I need to mention this, and this goes for any steam mop. Never put scented oils or any other cleaners in the water tanks. It's meant for only water. If you do put something in the tank, the mop is for sure to stop working overtime.
If you can, try to use distilled water and not the water from your sink. Every location is different, and some of the water you get out of the sink can have too many minerals in it. The minerals can shorten the life of a steamer. Your local store will have distilled water and since the tank is not too big a couple of gallons will hold you for a while.
Make sure to only use your steam cleaner on floors that can handle it. Some laminate and vinyl floors can't stand the heat so make sure to follow the guidelines given to you about cleaning that floor.
How To Clean Pet Urine
When it comes to pet urine and a steam mop, there are some things you need to do.
If you have a large dog their puddles will be bigger than the smaller puddles of smaller pets. For more significant messes, you'll need to soak up with a towel. Then you use a steam cleaner to get the rest up. The same goes for feces, you'll want to clean the bulk of it with a rag or paper towel.
For really tough messes I'll also use 50/50 Simple Green and water. I go with simple green because it's a safer chemical I've found. You can learn more about Simple Green here.
Pee Pads
If you use Pee Pads for your dogs, then a steam mop is a must-have for you. Even though these pee pads are made to stop leaks from getting to your floor, they still find a way.
A steam mop works perfectly for cleaning under and around the pee pad. You'll want to clean a wide area around the pee pad to keep them from thinking the spots around the pad are okay to go on too.
Other Steam Mops?
There are many options when it comes to a steam mop and honestly, there might be a better one for you than the one I recommend.
I also liked the Shark Steam Mop S1000A*, and so do many other people.
The trick is understanding what you need from a mop and seeing what others are saying about it in the reviews.
One feature I often look at the most is the cord length. This is an easy one to overlook. Your cleaning abilities will be limited to how much cord you have so if you have a big home make sure to get a long cord.
The tank size is a factor too.
Then the design of the clean head is a must. I love the models with a triangle head because you can clean corners. But if you have to clean large areas, a regular rectangle head will work better.
If you're tall, I'm sorry, but a lot of these steam mops in the world are not meant for you. I know the pain. Since steam mops clean so fast, it's not a huge deal.
Taking in the factors you need the most out of a steam mop you're sure to find one that fits your needs in cleaning especially for pet messes.