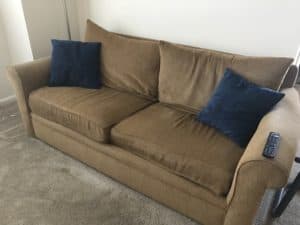 If your couch is looking nasty, then it's time to give it a good cleaning. You have two options – you can try to use cleaners and scrub it until your face turns blue or you could just steam clean it instead.
Steam cleaning doesn't require any chemicals and is one of the most natural ways to clean something. The steam even sanitizes too! So if you get a second-hand couch or sofa, you can steam clean it to get rid of the germs from the last owners. Also, steam cleaning can help get rid of bed bugs that are maybe lurking in the couch.
How you steam clean a sofa is not as straightforward as you might think. We will show you how we steam clean a sofa our way. This method also works on many other upholstery items too.
Important: Make sure to read and follow care instructions for your couch. Every couch is different, and some of the advice below won't be helpful if you have a couch that can't handle it.
The Steam Cleaner
If you don't already have a steam cleaner, then you need to get one. A steam cleaner can be one of the best things you buy for your home. A good steam cleaner like the McCulloch MC1275 Heavy-Duty Steam Cleaner* can be used just about anywhere to clean anything. Plus, it only needs water to clean!
Here is a little list of things you can clean with a steam cleaner…
Couch/Sofa
Car interior
Kitchen counters
Stove
Carpet
Floors
It only makes sense to buy a good Steam Cleaner as you will be using it for all your cleaning.
Shop Vacuum
The next item you need is a Shop Vacuum(Wet/Dry). A Shop Vacuum is just as important as a Steam Cleaner for a home. These two items are a must for a household with kids and pets, the mess they make can be fixed with either machine.
I'm a fan of this shop vacuum* when it comes to Shop Vacuums. The great thing about shop vacuums is that they can be used to suck up wet or dry items. This will come in handy when we start to clean the couch.
Step 1
The first thing you want to do before you steam clean your couch is to remove any loose items like blankets and pillows.
Also, go ahead and remove the cushions from the couch as well.
Step 2
When everything is loose, then grab your Shop Vacuum and start to vacuum up everything you see. Don't be afraid to use all the attachments to get into all the cracks.
You got to make sure you vacuum all cushions and the entire couch. You must remove all loose crumbs and such from the couch if you want the Steam Cleaner to be most effective.
Tip: When I clean a Sofa I like to move it to the center of the room. This way I can clean the area under it as this traps a lot of dust and odors. Since the sofa is away from the wall this also allows you to vacuum the back side; you'll be surprised by how many don't clean this part of the sofa.
Step 3
After everything is thoroughly vacuumed, you will need to steam clean. Make sure to read the directions of your Steam Cleaner, so you use the correct attachments and settings on your sofa.
One important thing to remember when using a steam cleaner is that the dirt and grime get lifted. You will need a Microfiber Rag to remove the grime. It's important only to use microfiber to avoid damaging your couch.
Oddly enough, there are not many videos on how to steam clean a couch. The good news is that steam cleaning car seats are just about the same as steam cleaning a couch.
Here is a great video showing you how to steam clean a Car's Seat…
Step 4
Not many people will do this as it can be seen as overkill, but I like to vacuum the couch one more time. Sometimes the steam can make wet spots on the couch, and a Shop Vacuum or Wet/Dry vacuum can help with this.
I set the shop vacuum for wet and put the flat attachment on and slowly vacuum the couch again.
Another reason why I do the extra vacuuming is that the Steam Cleaner lifts the dirt and grime to the surface and sometimes you miss spots when you wipe it with the microfiber cloth. The Shop Vacuum can get that little bit of grime and dirt that you might have missed the first time.