I'm not going to lie; I love using a Shop Vacuum for cleaning my home. A shop vacuum is one of those things that work so well to clean so many things that its hard to go back to a regular vacuum.
A shop vacuum or wet/dry vacuum can suck up just about anything and will keep going. When you have kids or pets it's a must-have! Those two very reasons are why I will use a shop vacuum to clean the dirtiest of floors and carpets. Some shop vacuums will lack the beater brush, but the mere power and durability of them can make up for that.
The durability and power of a shop vacuum is a must for any home, but which one do I consider to be the best for carpet? Quite honestly most shop vacuums will do just fine, but there is one that I think is the best-rounded machine on the market.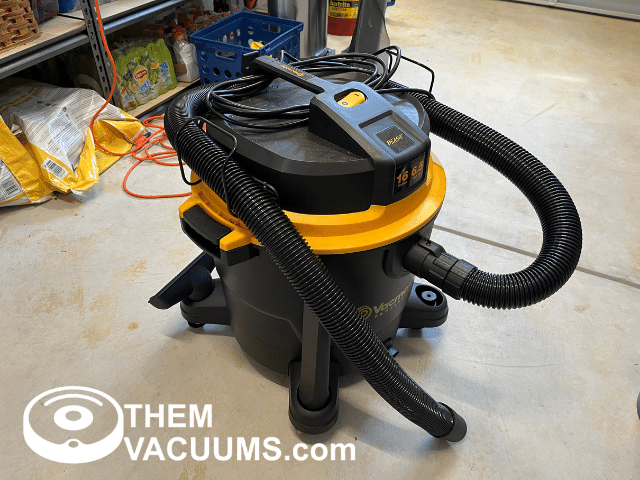 What I Would Use
When it comes to a good shop vacuum that can clean your carpets but also clean up just about anything too then the Vacmaster 4 Gallon 5 Peak HP with 2-Stage Industrial Motor Wet/Dry Floor Vacuum* is a good model.
When looking at a shop vacuum for around the home, you need to see what it has in accessories, power, capacity, and durability. The Vacmaster has all these things covered and then some.
Here is a list of things that makes this vacuum so great
5 Peak HP motor
Holds up to 4 gallons
Can Suck up dry and wet items
The multi-surface floor nozzle allows you to clean the carpet and hard floors
Long power cord and long hose
Strong and durable container, not really afraid of this thing breaking.
HEPA rated filter
Easy to roll around, big wheel in back helps
A lot of accessories for cleaning up just about anything
Quite affordable compared to those fancy regular vacuums you see on the TV
Picks up everything from mud, hair(pet hair), dirt, dust, coins, puke, poop and so much more
Found it to be quieter than I expected
Click Here to see Reviews and Price on the VacMaster Vacuum *
I have a nice little post about the benefits of a shop vacuum vs. a regular vacuum here. I go into details about what you can use a shop vacuum for like cleaning up spilled wine and glass.
Another Option
The Shop-Vac Wet Dry Vacuum* is also a good vacuum cleaner. A Shop-Vac was one of the very first shop vacuums I ever used.
The reason why it's not top on the list is that it will require a little bit more accessories to get it going. We actually talk about this more in the shop vacuum vs regular vacuum post I mention above. If you're in the market I would strongly consider looking at this vacuum too.
You can't go wrong with either machine, they're both great!
Cleaning Carpet
One neat little trick I like to do when I have to clean carpets or spot clean carpets is that I get both a shop vacuum and a steam cleaner.
If my dog has peed on the carpet, I would use the shop vacuum in the wet setting and suck up as much of it as possible. If you want you could use a towel to soak it up instead, this helps keep your vacuum from smelling like pee. Make sure to use vinegar to clean the tub of the shop vacuum out when done.
Then I grab a steam cleaner like this one here* and I steam clean the area. The hot steam helps to sanitize and clean the area better than most cleaners. If you don't trust a steam cleaner and want to use chemicals instead then just grab an Enzyme Cleaner like this one* to use. Enzyme cleaners will eat away at organic messes.
Once I have gone over the area with the steam cleaner I grab the shop vacuum to suck up the last bit. You never want to just steam clean and walk away; this is a common mistake that people do. A steam cleaner only releases the stains and odors from the carpet; they then must be removed. Using a shop vacuum to remove the stains and odor can be more effective than just brushing it or doing nothing.
Having a good steam cleaner and shop vacuum is a must for any home with kids or pets. These two things really do make your life so much easier when it comes to cleaning.
Note: A shop vacuum is not a carpet cleaner, those are special vacuum cleaners that use chemicals to scrub the carpet clean. You can rent carpet cleaners like rug doctors from your local stores to thoroughly clean your carpets. One thing I like to do when I have cleaned my entire carpet in the house with those rug doctors is to take the shop vacuum behind it to dry the carpet faster. I just don't like having wet carpet as I worry about mold and such – also the smell too!