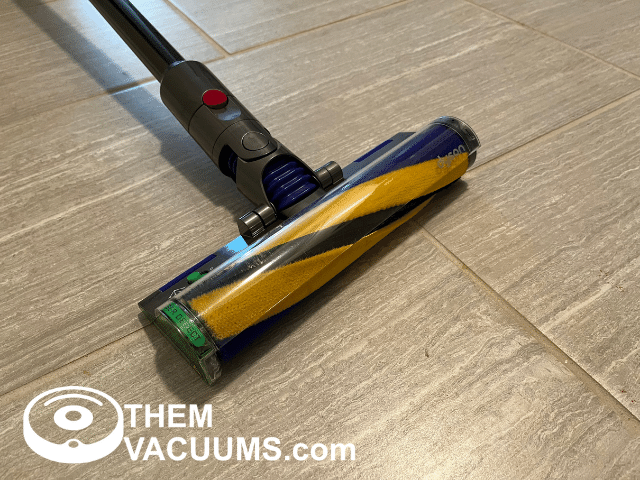 Tile floors are a popular choice for many homeowners because they hold up well in high traffic areas and far easier to clean than carpet.
However, if you aren't sure how to vacuum tile floors properly, you may end up damaging them or not getting them as clean as you would like.
We'll talk about the best way to vacuum tile floors and what vacuum cleaner you should use. We will also provide tips for cleaning tile floors and what things to avoid.
Will The Vacuum Hurt Tile Floors?
You can use a vacuum cleaner on tile floors, with some vacuums working far better than others. In fact, vacuuming is one of the best ways to clean tile floors. Vacuuming removes dirt, dust, and other debris from the floor surface, which a broom could miss.
However, you need to be careful when vacuuming tile floors. You should not use a vacuum cleaner with a beater brush on tile floors. The beater brush can damage the tile surface.
You can use a soft roller brush that many of the Dyson and other vacuum cleaners have. The brushes that look like a cylinder "hairbrush" should be avoided.
It's also best to use a lightweight vacuum cleaner on tile floors. Large and heavy vacuum cleaners can be too much for some tile floors to handle, especially if it has cheap plastic wheels that can scrape the tile.
The Best Vacuum For Tile Floors
The best vacuum cleaner for tile floors will be any stick-style vacuum cleaner.
A stick vacuum cleaner is a lighter and more delicate way to clean tile floors. These vacuum cleaners are designed for hard floors and have special attachments that work well on tile.
You should also look for a vacuum cleaner with good suction power. This will help to ensure that all the dirt and debris on your tile floor is picked up by the vacuum.
If you want the best of the best, a Dyson V12 Detect Slim* is what I consider the best and what I, personally, use on my tile floors.
How To Clean Tile Floors With Vacuum
Here are the steps for vacuuming tile floors:
If equipped, remove the beater brush from your stick vacuum, turn it off if that is an option, or install the soft roller brush if you have one. The rotating beater brushes can damage some floors, so it's best to not have them on when cleaning tile.
Start vacuuming the corners and edges of the tile floor, as this is where most of the dust rest.
Vacuum all area of the tile after doing the corners and edges.
Do another pass, but in the opposite direction, to make sure you get all the dirt to suck in the grout lines.
Things To Avoid With Tile Floors
When it comes to tile floors, you want to avoid harsh chemicals.
Porcelain tiles hold up better than ceramic, but with a strong enough chemical cleaner, both can get damaged or discolored. You'll find many tiles used for floors are porcelain as it holds up better to the foot traffic and water.
Here is the list of chemicals and things to avoid with porcelain tiles:
Avoid ammonia or bleach or any chemicals that contain it.
Avoid wax cleaners or oil-based detergents.
Avoid steel wool or any abrasive cleaning pads.
Avoid hard brushes, especially on the vacuum cleaner, stick to suction only vacuums or turn the beater brushes off when using on tiles.
Avoid cleaners with dyes in them especially if it's a light color tile.
If you accidentally drop a chemical on the tile that you were not supposed to, then clean it up with a damp rag while blotting the area with a new damp side each time.