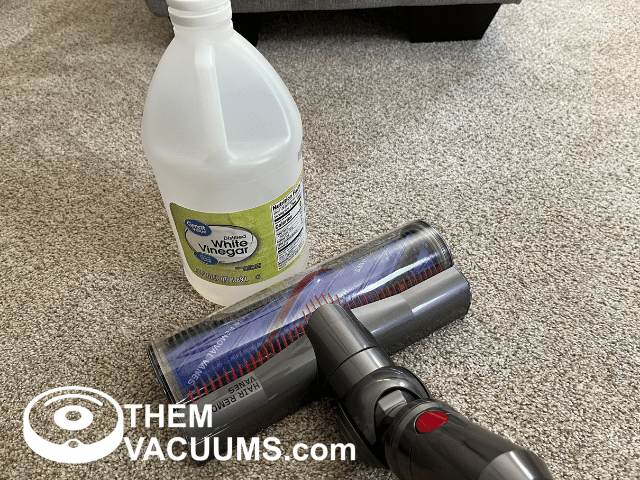 It's no secret that many commercial carpet cleaning solutions are full of harsh chemicals. Not only can these chemicals be dangerous for your family and pets, but they can also be harmful to the environment.
If you're looking for a more natural way to clean your carpets, you're in luck! We'll discuss different ideas to clean your carpets without using any harsh chemicals.
Use A Vacuum Cleaner!
One of the best ways to clean your carpets without chemicals is to vacuum regularly. This will help remove any dirt or debris that have been tracked into your home.
To make this easy and more routine, I suggest getting a robot vacuum and letting it vacuum every day. You can set up a routine in the app and let it clean when you're at work, so you have clean floors every day. Every time the robot vacuum cleans, it gets smarter as it learns your home. A robot vacuum is not going to replace your normal vacuum cleaner, but it does help in cutting down the need for harsh chemicals when cleaning carpets.
Another vacuum tip: use the vacuum cleaner attachments, even ones made for robot vacuums! The hose attachment on your vacuum is great for getting into tight spaces and corners. You can also use this to spot clean any areas that seem extra dirty.
Steam Clean Your Carpets
Steam cleaning your carpets is a great way to remove any dirt or stains. You can either rent a steam cleaner or buy a steam cleaner* for your home.
If you decide to buy a steamer, make sure you get one that's made specifically for carpets or has the carpet/floor attachments. This will ensure that your carpet doesn't get damaged during the cleaning process.
To use a steamer, simply fill it with water and follow the instructions. Most steam cleaners will have you go over each section of the carpet multiple times to ensure that it's clean.
After you're done steaming, let it dry, and make sure to vacuum the area again. This will help remove any leftover dirt or debris.
Steam cleaning is a great way to clean your carpets without harsh chemicals, and it's something you can do on your own at home.
The Best Natural Carpet Cleaner
The best natural carpet cleaning option I've found, especially for wine and other harsh liquids messes, is Borax.
Borax is a natural washing powder, similar to baking soda, but is used for cleaning and often used in washing machines as a detergent.
How to clean with Borax:
Blot and soak up as much of the spill as you can, avoid spreading it anymore.
Put a little bit of cool water on the area.
Pour some Borax on the area and put a damp rag over the borax.
Rub the rag into the stain with the borax to clean the area.
Repeat steps until spot is clean and clear.
To learn more about how to clean carpets with Borax, go here.
And a great video on Borax:
Clean Carpets With Only Water
You can use just water to clean your carpets, but it needs to be super clean water, like distilled water.
The more hard the water, the less effective it is at cleaning. One of the things that Borax does is soften the water.
The only thing soap is doing is making water more "watery". It increases the area of the water and allows it to absorb more and break up bonds of the things that are stuck, so it can clean.
Vinegar As A Carpet Cleaner
You can clean your carpets with vinegar in your carpet cleaner by having equal parts of water and vinegar, but it will leave a smell for a bit.
Vinegar is an acid, so it cleans, but using the wrong vinegar can be bad. You want clean white distilled vinegar, and you want to let the area air out after cleaning with it. I'm not a fan of using vinegar, especially when combined with baking soda, but it can work on some stains if you don't mind the drawbacks.